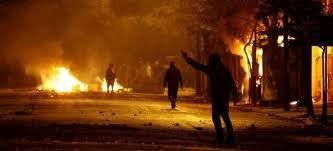 Selon   The telegraph, une note de Foreign Office a été adressée à l'ensemble  des  ambassades du Royaume-Uni en zone euro,  leur demandant d'élaborer des plans de sauvetage   de leurs compatriotes qui risquent  de se retrouver prisonniers d'émeutes sanglantes qui éclateront à coup sûr dés l'annonce de l'écroulement de la monnaie européenne avec difficulté d'accès aux comptes bancaires.  Cet effondrement est parfaitement plausible surtout qu'il est à présent attisé par de fortes craintes  sur la dramatique situation éco-financière qui prévaut en Italie et en Espagne. L'écroulement définitif de l'euro et par ricochet des banques,  n'est plus qu'une question de temps.
Cette tragédie en gestation enfantera selon les prévisions une baisse des PIB européens de plus de moitié et un tragique chômage de masse.
Lire l'article en question  ci-après :
Prepare for riots in euro collapse, Foreign Office warns
The telegraph
-

 

Monday 28 November 2011 - By James Kirkup, Deputy Political Editor
British embassies in the eurozone have been told to draw up plans to help British expats through the collapse of the single currency, amid new fears for Italy and Spain.
The Treasury confirmed earlier this month that contingency planning for a collapse is now under way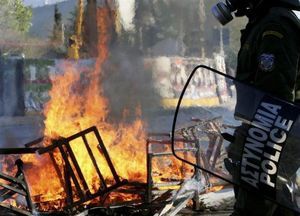 As the Italian government struggled to borrow and Spain considered seeking an international bail-out, British ministers privately warned that the break-up of the euro, once almost unthinkable, is now increasingly plausible.
Diplomats are preparing to help Britons abroad through a banking collapse and even riots arising from the debt crisis.
The Treasury confirmed earlier this month that contingency planning for a collapse is now under way.
A senior minister has now revealed the extent of the Government's concern, saying that Britain is now planning on the basis that a euro collapse is now just a matter of time.
"It's in our interests that they keep playing for time because that gives us more time to prepare," the minister told the Daily Telegraph.
Recent Foreign and Commonwealth Office instructions to embassies and consulates request contingency planning for extreme scenarios including rioting and social unrest.
Greece has seen several outbreaks of civil disorder as its government struggles with its huge debts. British officials think similar scenes cannot be ruled out in other nations if the euro collapses.
Diplomats have also been told to prepare to help tens of thousands of British citizens in eurozone countries with the consequences of a financial collapse that would leave them unable to access bank accounts or even withdraw cash.
Fuelling the fears of financial markets for the euro, reports in Madrid yesterday suggested that the new Popular Party government could seek a bail-out from either the European Union rescue fund or the International Monetary Fund.
There are also growing fears for Italy, whose new government was forced to pay record interest rates on new bonds issued yesterday.
The yield on new six-month loans was 6.5 per cent, nearly double last month's rate. And the yield on outstanding two-year loans was 7.8 per cent, well above the level considered unsustainable.
Italy's new government will have to sell more than EURO 30 billion of new bonds by the end of January to refinance its debts. Analysts say there is no guarantee that investors will buy all of those bonds, which could force Italy to default.
The Italian government yesterday said that in talks with German Chancellor Angela Merkel and French President Nicolas Sarkozy, Prime Minister Mario Monti had agreed that an Italian collapse "would inevitably be the end of the euro."
The EU treaties that created the euro and set its membership rules contain no provision for members to leave, meaning any break-up would be disorderly and potentially chaotic.
If  euro-zone governments defaulted on their debts, the European banks that hold many of their bonds would risk collapse.
Some analysts say the shock waves of such an event would risk the collapse of the entire financial system, leaving banks unable to return money to retail depositors and destroying companies dependent on bank credit.
The Financial Services Authority this week issued a public warning to British banks to bolster their contingency plans for the break-up of the single currency.
Some economists believe that at worst, the outright collapse of the euro could reduce GDP in its member-states by up to half and trigger mass unemployment.
Analysts at UBS, an investment bank earlier this year warned that the most extreme consequences of a break-up include risks to basic property rights and the threat of civil disorder.
"When the unemployment consequences are factored in, it is virtually impossible to consider a break-up scenario without some serious social consequences," UBS said.
Pour être informé des derniers articles, inscrivez vous :